Today we decided to do a little painting. I like to have a couple painting projects available for Jake. When he asks to paint I am ready with a project that corresponds with our
Monthly Theme
. Today Jake wanted to paint so I decided to pull out the egg carton and paint a traffic light.
We have spent a lot of time discussing traffic lights because he does NOT like to be in the car. What's worse in the car; sitting at a red light! Ugh, my son does not have a lot of patience! Although we have talked about traffic lights and he knows the colors and what they mean when I say, "red light." He still yells, "GO!!!!!" I thought this project would be fun for him, extra practice and nice toy to add to the Sensory Box with his trucks.
I held the egg carton and gave him one color at a time to paint. I covered the two sections he was not painting so that the paint would not get on the other sections.
This worked perfectly. Now because of Jake's age and ability I did not take it a step further to paint around the lights. I knew his skill and patience would not allow for this, but I would do more with an older child. This provides an opportunity to really get creative. I did use a hot glue gun to glue a Popsicle stick on the lights. We also made some Stop Signs.
After letting them dry and gluing the sticks on, we stuck them in the
Sensory Box
and got playing! It did not surprise me at all when Jake took his truck and ran right into the stop sign and "Crashed!" This guy is NEVER getting his drivers license. :)
While playing with his Sensory Box, he does pull the rocks, trucks and signs out of the box. He plays on the floor and back into the box. He obviously feels he needs more room. I am happy to see that he does this instead of losing patience or giving in and not playing.
Linking to...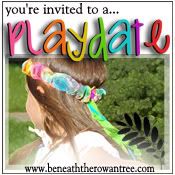 The Play Academy